Meet Marci Graham
(Click any art image to see it larger.)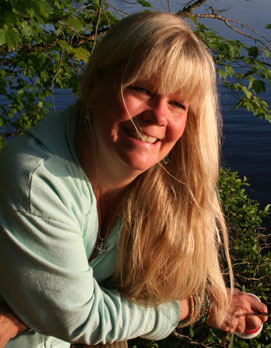 Marci is a ritual leader, a relationship counselor, and a movement teacher, as well as an artist who captures—in clay, paint, and word—expressions of her interior landscape. She designs and leads year-long programs to inspire and ignite passionate curiosity about self, soul, and planet. She is also an experienced yoga instructor and interior designer. Before embarking upon these unique year-long programs Marci led, with Jade Sherer (her sister), an eco-psychology and movement course called Nature Moving Women. Marci has offered programs in California, Nevada, Hawaii, Mexico and on the open waters of the Caribbean. She is passionate about clear and truthful communication and exploring consciousness through movement. Marci cares deeply both about the future of wild nature and the evolution of what's possible for humanity.
Marci's passion for art began early. She still remembers sitting in her grandmother's kitchen where she would watch her Grandma paint delicate flowers and butterflies on blown out eggshells and then she would try to reproduce the same tiny details on those curved surfaces with a brush of only 2 to 5 hairs. She remembers how happy she was there, and always wanting to paint yet one more egg shell.
In 3rd grade Marci carefully glued pieces of colorful construction paper together and created an exquisite Balinese Dancer mosaic. After she completed it she never saw that piece again, as it went on tour for the American Red Cross. Her early endeavors ranged from a full size paper-mâché gorilla in the 7th grade, to an oil painting of a grand old oak that would hang dustily over the couch in her parents living room long after it ought to have been retired, to a wire sculpture encased in polished plexiglas...that lived as an end table for many years in her adult home.
In 1972—in the middle of her studies at Des Moines, Iowa's Drake University—
Marci spent a summer in Florence, Italy, diving deeply into the art of the Renaissance as part of an overseas art program. During that summer she felt vitally alive as she immersed herself in Italy's rich tradition of art and culture. There she felt her freedom, both as an artist, as well as in her playful interactions with those she met. As part of the program she spent each morning studying art history in the cathedrals and gardens of Florence. Afternoons were spent creating many on-site drawings of markets, bridges, and other key locations. Life drawing filled many evenings.
Marci had longed to paint and sculpt, and to study art. Her "husband to be," however, wanted her to focus on work that would be more likely to earn money. She relented, and largely abandoned her art, and herself; rather than majoring in art she compromised and majored in Interior Design instead. Even so, she had the opportunity to deeply study art history, as well as perspective, the history of period furniture and the details of composition and watercolor rendering. At least she was in the Art Department. Although Marci learned to create beautiful spaces and to make an income, there was always a longing to simply create for the pure sake of expressing herself and creating. For many years after earning her BFA, Marci's art was vague memory...a painting hung in a back bedroom or leaning in a closet.
Like a bolt of lightning, one day in 1998, still in Iowa, her divorce completed...a stunning transformation occurred! As her old pieces were coming out to be seen Marci confronted every possible feeling from freedom to shame to guilt to anger to overwhelming sadness to joy and remembering ...yet ...they enlivened her and others!! Art therapy helped her to throw all caution to the wind and she found the courage to allow images to move through her onto illustration board and canvas.
As part of her art therapy Marci spent two years drawing dinner-plate size mandalas. One day she was inspired to draw something bigger. She brought home a large piece of illustration board, and was getting ready to draw a big circle for yet another mandala. Suddenly, her left (non-dominant) hand slapped the right hand away, and in the next 10 minutes or so created a picture she now calls "Out of the Box." (The image was named after a friend commented, "that's the most out of the box picture I've ever seen.") When Marci took the image in to her art therapist, her therapist said "I think we're done..."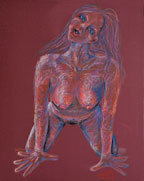 "The Vixen"
31" X 39" soft pastel on board
Two years later Marci found herself in California...sculpting clay in one studio and painting in another... and being present to the energies that called her to release additional long-held images and to show their faces.
A series of wild women arrived in early 2002, which were indeed, herself, they charged out of her in order to be seen and responded to. She did pay attention...and allowed her anger, her playfulness, her peacefulness, her despair and the first inklings of a sense of old wisdom and shaman~like knowings to take bodily form and confront anything left undone in her healing. On her 50th birthday she was courageous enough to show all these faces of herself and be witnessed and celebrated by her family and community.
Marci also expresses her heart and mind through writing. She had the fun and privilege to write in a weekly writing group for almost seven years in Santa Cruz. Marci writes from her life and the knowing of her body, and is honored that her work is included in a rich anthology of women writers called Sisters Singing, which was published in November 2008. Marci's pieces in this book include "The Roar," "Any Tiny Thing" and "A Thousand Senses."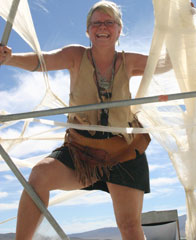 In 2000, Marci left her life-long home in Iowa and moved to California to immerse herself in the amazing and transformative work of the Human Awareness Institute (HAI). Since 2002, her leadership roles in HAI include serving as a member of the HAI Global Board of Directors, an Intern, Team Coordinator, Ombudsperson, Team Leader, and Presenter.